2001 VTR1000F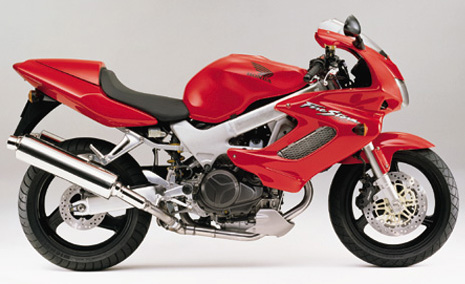 2001 VTR Links;
Changes;

- Additional 3 litres fuel, now 19 litres
- New instruments, LCD readout to right with odo, trip, time, temp and fuel
- New handlebar angle, slightly flatter
- Damping revalve for forks
- Shock has rebound damping adjustment
- Electronic security built into ignition lock
- New type of battery
- Minor carb and ignition mods
- New indicators
- Black gloss finish wheels
- Black top triple clamp
- Black brake callipers
Australian delivery is late March 2001
---
A message to Honda;
Most of us consider this model re-vamp a bit of a disappointment.
These are the sort of changes we would have expected in 98 (second model year).
The tank size and instruments are good, but we also expected the following;
- fuel injection, giving both better economy and slightly more power (say 5 hp)
- restyling, say twin headlights, fresh but not major otherwise
- new, useable, mirrors
- decent springs in forks
The injection and styling would take a bit of effort, but you have had 4 years.
The mirrors and springs are cheap and could easily be fixed.
Maybe in 2002. Perhaps you could even do some market research Mr Honda ?
2001 Press Info (571 KB)
Thanks to Simon Gloyne, Honda MPE
---
Honda speil (and photos) below
Honda VTR1000F Firestorm goes the bigger distance
For the year 2001, the VTR receives a host of improvements intended to broaden its range of enjoyment and provide better adaptability to longer riding distances and more touring-oriented applications.


Increased Fuel Capacity
Since its 1997 debut, Hondaís VTR1000F Sport Touring model has carved a strong reputation amongst weekday commuters, weekend scratchers and holiday tourers. Alas, itís Achilles heel for touring riders has been its fuel range, ideal for day to day riding but limiting for some longer distances. To broaden the Firestormís range of long-distance riding enjoyment, several fundamental changes were made to its design to improve its level of comfort and touring convenience. First among these was a major increase in the fuel tankís size. Now able to hold 19 litres of fuel - an increase of three litres and a slightly larger profile - the Firestorm offers a greatly extended range of riding distance between fuel stops.


New Riding Position
Complementing the Firestormís extended range, a more relaxed riding position for increased comfort on long-distance and around town riding has been adopted. The clip-on style handlebars have been raised by 15.6mm and angled upward approximately 7 degrees for a slightly more upright posture, better for long hours on the road.


Slender looks
The new Firestorm also features a compact and stylish new set of multi-reflector indicators that provide a high visibility flash while featuring a smaller, new angular design that distinctively complements its sporty good looks.


Engine tweaks
The VTR1000F Firestormís high-powered 90-degree V-twin engine has won instant renown for providing strong, exhilarating performance coupled with superb reliability. For 2001, the engine received a detailed inspection of all the components that factor into its performance equation, which resulted in small but significant modifications made to such points as its carburettor and ignition settings in the interests of smoother, more responsive performance.


New colour and graphics
The Firestormís graphics have been completely changed for 2001, with a prominent Honda Wing mark now installed proudly on its fuel tank. Its VTR mark and Firestorm name now appear together on both sides of its sleekly designed half-fairing, and the Honda logo is now prominently displayed at the rear of its tail cowl. Its lightweight, sportily designed triple-spoke wheels now feature a glistening new black finish to beautifully complement the Firestormís brilliant colours. Carrying over from the previous year are the same bright red that has defined the Firestormís high-spirited performance since its first debut, and a light and pearlescent yellow. The new addition for the year is a deeply exotic metallic Lapis blue that shimmers like an evening sky to temp one with a beckoning call to ride, and ride.


FEATURES
Sharper handling

To ensure the Firestorm delivers top handling and performance over the widest range of riding conditions, its front forks were modified slightly to provide smoother damping operation at initial compression for more precise control.



Compact New Battery

The Firestormís powerful, maintenance-free (MF) battery has also been changed to a new Ďwet-typeí that not only provides strong, reliable output for its small and lighter size, but also holds its charge longer than the Ďdry-typeí battery that it replaces.



Lightweight New Instrument Panel

One of the biggest changes to the new Firestorm can be seen the instant one sits down to ride. Its slim and stylish new instrument panel features a new tachometer and speedometer layout, with a white-face tachometer prominently positioned at the top of the compact unit, and a black-face speedometer appearing to be partially hidden under its dial. To the right is a large, all-new liquid crystal display (LCD) that provides instant readout of such information as the time, coolant temperature, fuel reserve, odometer and dual-setting trip meter. Positioned for easy view are the usual indicator lights in a row under this new display.
The VTR1000F continues in itís fine tradition of providing a superb torquey V-Twin heart in a chassis designed to answer a sport-touring riderís every need from day to day commuting, to the occasion track day as well as long distance touring. In contrast to the increasing trend toward uncompromising sheer sports machines, the new 2001 VTR1000F expands and satisfies the meaning of the true universal motorcycle.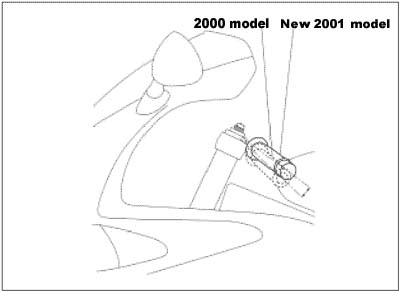 Model Name:
VTR1000F Firestorm 2001 Model
Engine Type:
Liquid-cooled 4-stroke 8-valve DOHC 90 degree V-twin
Bore x Stroke:
98 x 66 mm
Displacement:
996 cm3
Compression Ratio:
9.4 : 1
Carburettor(s):
48mm slanted flat-slide CV-type x 2
Maximum Power:
110PS @ 9,000rpm (95/1/EC) (81kW/9,000min-1)
Maximum Torque:
9.9kg-m @ 7,000rpm (95/1/EC) (97Nm/7,000min-1)
Ignition:
Computer-controlled digital transistorised with electronic
Starter:
Electric
Transmission:
6 speed
Final Drive:
O-ring sealed chain
Dimensions (mm):
(LxWxH) 2,050 x 710 x 1,155
Wheel Base (mm):
1,430
Seat Height (mm):
810
Ground Clearance (mm):
135
Fuel Capacity (litres):
19 incl 3.5 reserve
Front Wheel:
Hollow-section triple-spoke cast aluminium
Rear Wheel:
Hollow-section triple-spoke cast aluminium
Front Tyre:
120/70 ZR17 (58W) (Radial)
Rear Tyre:
180/55 ZR17 (73W) (Radial)
Front Suspension:
41mm H.M.A.S. cartridge-type fork with adjustable spring preload and rebound damping, 109mm axle travel
Rear Suspension:
Pro-Link with preload and rebound damping-adjustable gas-charged H.M.A.S. damper, 124mm axle travel
Front Brakes:
296 mm diameter x 4.5 mm thick dual hydraulic disc with 4-piston callipers and sintered metal pads
Rear Brakes:
220 mm diameter x 5 mm thick hydraulic disc with single-piston calliper and sintered metal pads
Dry Weight (kg):
193 kg
RRP incl. GST:
TBA
Colours available
(for Australia) :
Italian Red
Pearl Flash Yellow
Lapis Blue Metallic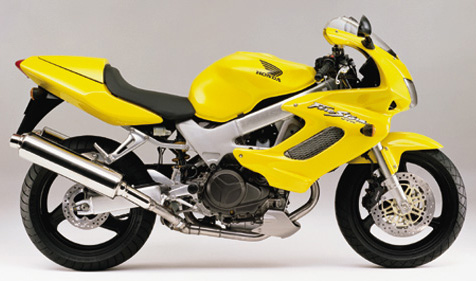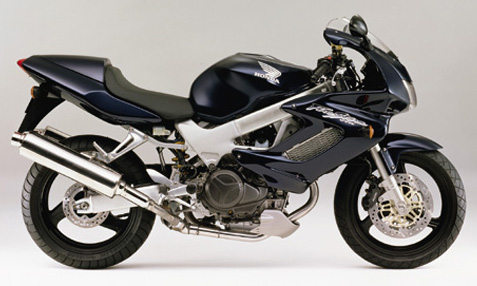 ---
Back